Juvenile Offenders – Alternatives to Confinement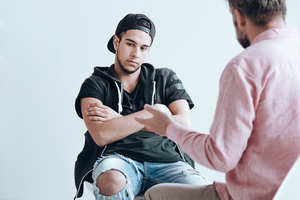 In the United States, more juvenile offenders are housed in locked facilities than in any other developed country. Approximately 70,000 minors are held in custody in facilities across America. In light of recent incidents and studies that show that locked facilities may not be the best or most cost-efficient option for housing juvenile offenders, many state and local governments have explored and implemented alternatives to confinement when dealing with minors who commit or who are accused of criminal offenses. There are various types of alternatives to detention and confinement.
House Arrest
Under house arrest and home confinement programs, a minor's activities are restricted either before or after a juvenile adjudication. Home conferment allows a juvenile offender to attend school or work and any other requirement of the court or probation. The minor's location is closely monitored and he or she is restricted to the home during certain hours or days. The Court or juvenile probation officer can set the minor's schedule and can monitor the minor's movement to ensure compliance.
Juveniles on home confinement are usually required to wear a monitoring device. The device contains a GPS tracking device that will transmit data about the wearer's location. Some home monitoring devices can also measure for alcohol or drug consumption. Tampering with the device can be grounds for a violation and will typically result in the minor being sent to a juvenile facility. Where no electronic device is used, the juvenile may be required to maintain close contact with his or her probation officer.
Community-Based Alternatives
Community-Based alternatives are programs designed to provide youth with supervision and services outside of a locked facility setting. These alternatives are often more cost-effective than detention in a locked facility and do not carry the same harmful consequences as confinement.
Community-based alternatives can be used both before and after juvenile adjudication. Pre-adjudication alternatives to detention include the use of evening reporting centers, home detention and, short-term shelter care. Evening reporting centers are operated through juvenile court systems and are open immediately after school until the evening. The centers provide educational and recreational programming and provide minors a safe place to work on homework, take classes, complete community service and even receive state-funded meals. Staff at these centers monitor the juvenile's attendance and progress and will often provide transportation from school or to the minor's home.
Short-term shelter care is available for minors who are not considered to be dangerous but who do not have safe home environments or adequate supervision. These shelters are designed to provide temporary housing for minors who do not have permanent homes.
There are also community-based alternatives to confinement for minors who have been adjudicated delinquent in juvenile delinquency court. Multisystemic therapy ("MST") is a program designed for serious or repeat juvenile offenders. Under MST, a therapist is assigned to the juvenile offender and will visit the minor's home, school and will be available at all times. MST therapists focus on addressing the underlying causes of the minor's delinquency and will work to improve family communication, help the minor in finding more positive peer groups and activities and improving school performance. MST has been shown to reduce recidivism rates by 70% in juvenile offenders.
Functional Family Therapy ("FFT") is another post-adjudication alternative to youth confinement. It involves short-term, family-centered therapy with up to 30 hours of therapy. Sessions focus on family communication, parenting skills, and conflict management. Studies have shown that FFT has been effective in reducing recidivism between 25% and 60%.
Specialized Foster Care
Specialized foster care is a post-adjudicated treatment model that recruits qualified families to offer placement for minors who have chronic delinquency issues. When the minor has been removed from his or her parents or does not have a stable home environment, he or she can be placed in a specialized foster home. Foster parents receive special training regarding the needs of youth in the juvenile justice system. These foster parents are expected to provide intensive supervision for the minors in their custody.