Children and Revenge Porn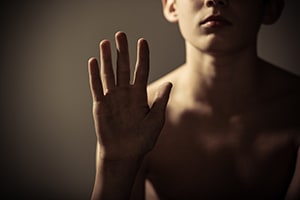 Revenge porn has been defined as revealing sexually explicit images or videos of someone else, usually by a former intimate partner, without the consent of the subject in order to cause distress or embarrassment. In many cases, minors can be both the subject of revenge porn as well as the party disseminating this material. Revenge porn is a recent phenomenon that has become widespread in the Internet age; and minors are particularly at risk to be the victims of revenge porn.
How Does Revenge Porn Affect Children?
Revenge porn is often associated with underage sexting and cyberbullying, Internet issues which have a significant impact on children and adolescents. In many cases, a minor may be pressured into sending explicit photos or videos to a boyfriend or girlfriend or even to a stranger met online. The minor may believe they are engaging in harmless "sexting" with someone they trust, when in reality the images, messages and videos may be publicly disseminated.
In many cases, revenge porn is closely associated with cyberbullying. A minor may send private photos or videos which then may be used against them in order to shame or humiliate them. It is not uncommon for explicit photos and videos to be widely shared among schools and posted publicly on popular social media websites and applications. In many cases, someone may use the threat of disseminating private and explicit material in order to manipulate the minor into doing things or even sending more videos and pictures.
Revenge Porn and the Law
Increasingly, states have made it illegal to post or send material that can be considered "revenge porn." In 2013, California enacted California Penal Code Section 647(j)(4), also known as nonconsensual pornography, which makes it illegal to distribute an explicit image or video of another person that was taken with the understanding that the image would remain private. Many other states have followed suit and have added and increased the penalties assessed on those who release or reveal these types of private, intimate photos without the subject's consent.
When the content of revenge porn includes images of underage minors, possessing and disseminating this type of material can lead to very serious criminal charges. Producing, possessing and sending child pornography is a felony level offense and those convicted can face lengthy prison sentences and may be required to register for life as a sex offender.
In many revenge porn cases, those involved with the sending of the inappropriate and explicit material will be charged with distributing child pornography. This means that any minor involved in sending explicit photos or videos faces a potential sex offense. In some states, the laws are written broadly enough to include minors who send explicit photos or videos to other minors.
Who Commits Revenge Porn Offenses?
The name "revenge porn" may be a misnomer, as it tends to conjure images of jilted lovers disseminating intimate photos and images that were sent to them privately. In fact, many of those releasing these private images are hackers who find the images stored in emails and servers. Many states have discontinued the use of the phrase "revenge porn" and instead refer to this type of material as "nonconsensual pornography."
One of the most famous examples of this occurred between 2013 and 2014 when hackers were able to access iCloud accounts belonging to celebrities and images of over 100 people were released publicly. Investigation revealed that many of the celebrities involved fraudulently had their log-in information obtained through misleading emails that purported to be from Apple and Google.
It is estimated that 10 million Americans have been threatened with having their intimate photos or videos shared publicly online. Many of these are underage minors who were tricked or pressured into taking explicit photos or videos and sending them to strangers. In some cases a stranger may extort a minor into sending more explicit material or even into committing sexual acts to avoid release of the explicit material.