Indigent Defense for Juveniles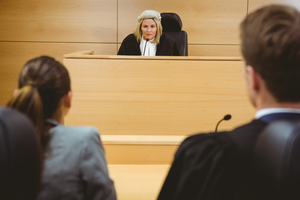 While juvenile delinquency court is governed by its own unique set of policies and procedures, minors in juvenile court who have been accused of committing a crime are entitled to many of the same rights and protections as an adult in criminal court. This includes the right to be represented by an attorney and the right to have counsel appointed if the minor cannot afford an attorney. Many state and county public defender offices have dedicated juvenile divisions dedicated solely to the representation of accused minors.
Right to Counsel in Juvenile Cases
The United States Supreme Court held in the 1967 In re Gault decision that juvenile offenders have a right to counsel guaranteed by the Due Process Clause of the United States Constitution. Beyond this right, state constitutions and statutes have expanded the right to counsel in juvenile criminal matters. In California, a minor has the right to counsel in status violation and delinquency matters pursuant to California Welfare and Institutions Code Section 634. Minors further have a right to court-appointed counsel in appeals proceedings per California Welfare and Institutions Code Section 601. When appearing at his or her detention hearing, which is the first appearance before a juvenile court judge, California Welfare and Institutions Code Section 633 requires that the minor be informed about his or her right to counsel at each and every stage of the proceedings.
How is Indigence Determined?
If the minor or his or her parents or guardian would like an attorney but are unable to afford one, the court will appoint counsel. The law requires that the judge appoint counsel if a minor appears at a hearing without counsel regardless of indigency unless the minor waives his or her right to counsel. If there is a waiver, counsel will be appointed. The Court may conduct a determination regarding whether or not the minor's parents have the ability to pay. If the parents can pay, counsel may be appointed at the parent's or guardian's expense. A detention hearing can be continued for up to seven court days to allow the court to make such a determination.
Under California Welfare and Institutions Code Section 634, a minor is allowed to waive his or her right to counsel as long as the waiver is deemed to be "intelligent." The Court must consider the totality of the circumstances when determining if a minor's waiver of counsel is knowing, voluntary and intelligent. The policies and procedures that govern juvenile delinquency hearings are unique and often confusing and going into a juvenile court hearing without counsel is not advisable.
Public Defenders and Panel Attorneys
An indigent minor who requests an attorney will often be appointed a lawyer from the Office of the Public Defender. The minor does not have the ability to select which public defender is appointed to his or her case and in many cases, these lawyers carry caseloads the exceed American Bar Association recommendations. Unlike private attorneys, public defenders are appointed once a petition is filed and the minor appears in court for his or her detention hearing. Because of this, public defenders are typically unable to perform any pre-filing investigations or to intervene with the prosecutor to prevent a juvenile filing because they are only appointed after a petition has already been filed.
In some cases, the public defender's office may have to declare a conflict of interest and an attorney from outside of the Public Defender's Office may have to be appointed. The minor may be appointed an attorney from the Office of the Alternate Public Defender in these circumstances. In other cases, the minor may be appointed a panel attorney who receives a flat fee from the county to represent the juvenile offender. In California, bar panel attorneys have been criticized for lacking adequate training and experience in representing juvenile clients. Recent legislation has added minimum education and experience requirements for any attorney seeking appointment in juvenile court.